Every year, the people of Elk Grove honors an Elk Grove citizen who has contributed greatly to our community and is an example of the meaning of giving.  Since 1955, representatives from different Elk Grove community service organizations have presented this annual award honoring an area resident who has rendered outstanding services directly to the Elk Grove community.
In 2020, the committee selected another Elk Grove Lion, Past President Jack Edwards and his wife Tracey, Past President of the Soroptimist International of Elk Grove, as Elk Grove's Citizens of the Year.
Our club is very proud to note that 16 times over the years, a Lions Club member has been selected as the Citizen of the Year.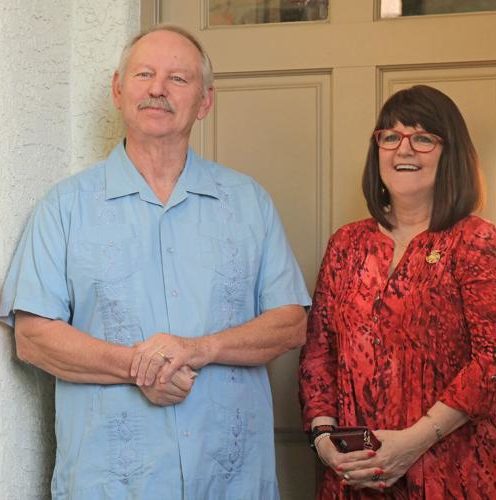 The Elk Grove Citizen of the Year is truly a community award. The recipient of the Elk Grove Citizen of the Year award is honored at a banquet held on the first Monday in November each year. The award and banquet are co-sponsored by several local service organizations. Some of the co-sponsors include the Elk Grove Lions Club, Elk Grove Optimist Club, Pride of Laguna Creek Lions Club, Rotary Club of Elk Grove, Rotary Club of Laguna Sunrise and the Soroptimist International of Elk Grove. Over the years, several members of the Elk Grove Lions Club have been selected to receive this honor. Proceeds from this event benefit the Elk Grove Citizen of the Year scholarship which is given to a qualifying high school senior.
Curious about past recipients?
1955 – Raymond Case, principal-superintendent, Elk Grove Elementary School
1956 – Alvin Bartholomew, businessman, leader of many community groups, Lions Club
1957 – Tom Karamanos, Lions Club, started Elk Grove Business Men's Association
1958 – George Henderson, Boy Scout leader, started Elk Grove Boy Scouts
1959 – Elk Grove Volunteer Fire Department
1960 – Cantrell Castello, dairyman, involved in many organizations.
1961 – Gerald Brown, community leader, especially Western Festival
1962 – Edna Sperry, Leader in Girl Scouts, Red Cross, Mothers' Club
1963 – Raymond Russell, builder of houses, EG Park maintenance
1964 – Paul Betschart, sports supporter, fire department, Lions Club
1965 – Jessie Baker, supporter of children with special needs and disabilities
1966 – Theodore Smedberg, EG principal, superintendent, Sac County Office of Education
1967 – Hilma Colton, HS teacher, Girl Scout leader, Cemetery District
1968 – Ida Fleming, active with many community groups
1969 – John Zehnder, dairy and business man,Lions Club, and many groups
1970 – Robert Fite, principal and strong community supporter
1971 – Jack Hill, volunteer firefighter, soapbox racers for youth
1972 – Anabel Gage, local historian and photographer
1973 – Douglas Berner, athletic activities for all youth
1974 – Bernice Gallup, reporter of local news
1975 – Marvin "Bud" Jones, businessman, EG water district
1976 – Glen Beeman, educator, business manager, EGUSD
1977 – Henry Kloss, Sacramento County Supervisor, Franklin family, Lions Club
1978 – Jeanne Womack, Western Festival leader and parade organizer
1979 – Carl Amundson, Rhoads School and started EG Historical Society
1980 – Roy Herburger, Elk Grove Citizen since 1959, Lions Club
1981 – Elizabeth Pinkerton, educator, local historian, writer
1982 – Glenn Houde, EGUSD Superintendent
1983 – Richard Lichtenberger, leader in Senior Center
1984 – Mel Oneto, agriculturist, Lions Club, Boy Scouts, Senior Center
1985 – Margit Kloss, Franklin Parents Club, many organizations
1986 – Gerald Derr, Lions Club, EG fire department leader and chief
1987 – Dorothy Hrepich, active in many community groups
1988 – Gary Lawson, educator, principal Jessie Baker, disability leader
1989 – Iris Zimbelman, created the Strauss Festival
1990 – Pat Braziel, brought about many local improvements
1991 – Jerry and Jeanne Strong, Project R.I.D.E., Lions Club, and many community groups
1992 – Mike Zehnder, "Fireman Mike," Lions Club, involved with many community events
1993 – Olga Batey, community leader and activist
1994 – Roger Shaffer, leader in many community groups
1995 – David Simpson, newspaper writer, Lions Club, supporter of many organizations
1996 – Roy Sharp, agriculture programs, animal care, reaching out to youth
1997 – Hal Bartholomew, EG Parks and Recreation, and many other groups
1998 – Jim Ring, Project R.I.D.E., and many other groups
1999 – Sophia Scherman, projects to assist disabled youth and adults, Optimist Club
2000 – Cathy O'Neil, started clothing drives for those in need
2001 – Frances Fite, leader of Rhoads School project, many other groups.
2002 – Dan Lawrence, a leader in many community organizations
2003 – Jean and Lyn Hawkins, business, Food Bank, mentoring students
2004 – Stanley Carothers, supporter of many local organizations.
2005 – Marsha Holmes, dedicated volunteer in many organizations,
2006 – Arnold Adreani, educator, principal of Joseph Kerr, scholarships
2007 – Elaine and Jim Wright, Lions Club, leaders in business and a variety of organizations
2008 – Bob & Lisa Lent, long time Rotary leader, involved with many organizations
2009 – Frank and Paula Maita, business leaders, city, chamber, and other groups.
2010 – Mary Lewis, writer, columnist, chamber, Soroptimist and Strauss Festival
2011 – Mark Hedlund, the voice of Elk Grove, master of ceremonies at many events
2012 –  Gary Dapelo, Lions Club, great volunteer and supporter
2013 – Frank Lucia, educator, support for homeless
2014 – Marie Coleman, fund raiser leader for scholarships
2015 – Pat and Warren Weaver, education and agriculture groups, Lions Club, and scholarships.
2016 – Jim and Annaclare Entrican, Elk Grove Historical Society, Native Sons & Daughters of the Golden West.
2017 – Pancho Sanchez, Elk Grove Lions Club and almost any fundraiser that required a cook.
2018 – Kevin Spease, Rotarian and community supporter
2019 – Rebecca Davis. Retired teacher and member of Elk Grove Regional Scholarship Program
2020 – Jack Edwards, Elk Grove Lions Club and Tracey Edwards, Soroptimist Elk Grove
If you would like to honor someone in the future, you can make a nomination by completing an application and including a signed letter containing information on club and service organization involvement, past accomplishments in the community, and all accomplishments significant to the community. If you can attach several letters of support for your nominee, that would improve the person or couple's chances of being recognized. The selection committee works directly with our Elk Grove Chamber of Commerce.
Click here for Nomination Form.
Send in confidence to:
Citizen of the Year
c/o the Elk Grove Chamber of Commerce
9401 East Stockton Blvd, Suite 125
Elk Grove, Ca 95624
You may also fax it to 916-691-3810.
Please contact the Chamber of Commerce at 916-691-3760 with any questions.