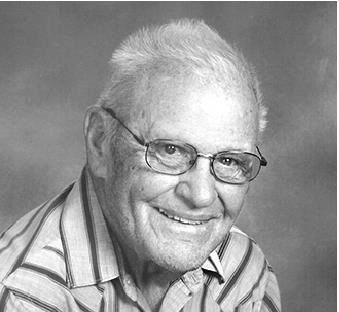 John Louis Zehnder Sr., 91, of Elk Grove, passed away on March 3, 2018, surrounded by his family, following a brief illness. He was a longtime Elk Grove rancher, volunteer firefighter, and community leader. John was born in Sacramento to Louis and Anna Zehnder on Jan. 2, 1927, and the family moved to Elk Grove 15 years later. After graduating from Elk Grove High School in 1945, John served in the Navy for a year, part of which time he spent in Japan. He was a volunteer firefighter with the Elk Grove Fire Department from 1951 to 1996. He also operated a ranch and dairy in Elk Grove. He was a dedicated cattleman and always honored his farming roots. He served as a director of the First Security Bank; an officer of the Dairy Herd Improvement Association; a co-owner of the EG Food Mart; and worked as a stockbroker for Bryan Miles at Beckman & Co. for about 35 years.
John had a lifelong love of sports, including sport fishing, SCUBA diving, water and snow skiing, tennis, and golf. He also was a devoted supporter of Elk Grove High School sports, and operated the timeclock at the high school football games for more than 60 years. John earned the high school's Fred Anderson Memorial Award and was inducted into the school's Hall of Fame.
The Elk Grove Chamber of Commerce named him the 1969 Elk Grove Citizen of the Year for his community work. He was president of the Elk Grove Lions Club, the Elk Grove Softball Association, Elk Grove Fire Association, and a board member of St. Joseph's Catholic Church. He was the Western Festival's grand marshal in 1998 and 2017. A local park and a school are named in honor of John and his family. He is survived by and dearly missed by his wife of 67 years, Nancy; seven sons, John Jr. (Linda), Tom (Nancy), Mike (Kathy), Dan (Richelle), Steve (Paula), Bryan (Colleen), Paul (Shelly); 23 grandchildren and 20 great-grandchildren.
A celebration of his life will be held at St. Joseph's Catholic Church, 9961 Elk Grove-Florin Road, on Friday, March 23 at 11 a.m., followed by a reception at the Elk Grove SES Hall at 10428 East Stockton Blvd. In lieu of flowers, donations may be made in his name to the Elk Grove Regional Scholarship Foundation, Attn: John Zehnder Memorial Scholarship, P.O. Box 2021, Elk Grove, CA, 95759; or the Elk Grove Lions Club, P.O. Box 465, Elk Grove, CA, 95759.